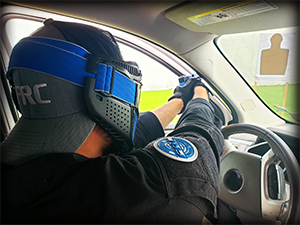 FRC's Vehicle Defense class introduces students to the concepts, tactics, and mechanics of weapons employment both from the interior of an automobile and within its immediate vicinity.  Students will utilize simulated munitions in real-world scenarios to develop sound strategies for the effective, efficient, and legally justified elimination of rapidly evolving threats in dynamic and fluid situations.
Topics covered include:
•    Avoiding/Defeating Attempted Carjackings
•    Immediate Actions in Meeting Engagements with Civil Unrest, Crowds & Roadblocks
•    Hard Points and Use of Vehicle for Cover
•    Deflection – Ballistics and Projectile Behavior Against Intermediate Barriers & Hard Points
•    Drawing from Concealment from Interior of Vehicle
•    Weapons Employment with Passengers Present
•    Dominant and Non-Dominant Hand Shooting from Interior and Exterior of Vehicle
•    Interior and Exterior Movement
•    Review of Deadly Force and Justification
•    Legal aspects and Ramifications of Lethal Force Involving a Vehicle
•    Live Fire Simunitions Training Scenarios
Class length: 8.5 Hours
What to bring:  Appropriate clothing (thicker long-sleeve shirts or sweat shirt and long trousers).  Student's clothing will be struck by simulated munitions marker rounds so please wear articles you don't mind having marked up.  You will need a good pair of tactical gloves that will both protect your hands and allow you to operate a pistol effectively.  All other PPE, Training Guns, and FOF marker rounds will be provided.