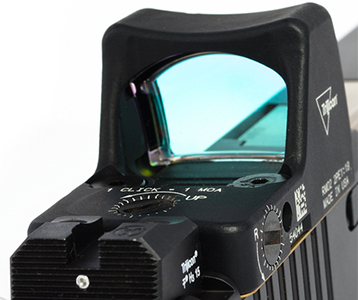 Due to their numerous advantages over traditional iron sights, Miniaturized Red Dot Sights (MRDS or RDS) are becoming increasingly common, and more law enforcement, security personnel, and armed citizens are mounting them on their duty and carry weapons every day.
FRC's RDS Class introduces the shooter to the latest handgun optics technology and gives them the fundamental skills to employ it efficiently and effectively. The RDS Class is taught by Certified RDS Instructor, John Hanchey, and it will familiarize the student with the technology, concepts, principles, and effective tactical employment of modern pistol optics.
This is not a beginner class.  Students should already have intermediate to above average proficiency with a handgun before enrolling.
Topics covered include:
Nomenclature and technology of MRDS (Miniaturized Red Dot Sights)
Current market optics
Mounting options and procedures
Proper maintenance
Physiology of the human eye in aiming and under stress
Environmental impact on RDS sighting systems
Draw stroke and optic acquisition with RDS
Zeroing
Transitioning from iron sights
Occluded optic shooting
Live fire drills and qualification
Class length: 8 Hrs.
What to bring: Your pistol equipped with a serviceable RDS optic, a quality RDS compatible holster, a quality gun belt, minimum of 3 magazines, magazine pouch, hearing and eye protection, and 300 rounds of ammunition.  You will also need a black marker.
Ammunition for most handgun calibers, and ear and eye protection are available for purchase in our retail area.