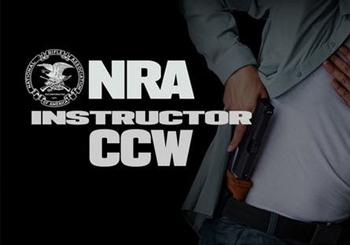 FRC's 2 Day NRA CCW Instructor Course consists of both discipline specific instructor training and live-fire range instructor training.  Instructor Candidates must demonstrate organizational and teaching skills via participation in practical exercises during the course, and must pass a written instructor certification examination.  Additionally, the Instructor Candidates must pass the CCW Instructor Level shooting qualification Course of Fire. 
The NRA CCW Instructor Course will focus on developing the knowledge, skills, and attitude necessary for Instructor Candidates to teach carrying and using a concealed pistol ethically, responsibly, and with confidence.  As a result of participating in this course, the Instructor Candidate will be able to explain and demonstrate the topics below. 
Topics covered include:
How to apply the NRA Rules for Safe Gun Handling when carrying a concealed firearm
Choosing a defensive firearm
Basic principles of defensive shooting
Cover and concealment
Drawing from the holster
Levels of mental awareness, and developing the proper mindset when using a pistol for personal defense
Clearing common stoppages and malfunctions
Care and cleaning of an EDC firearm
You must obtain a 90% or better on the written exam and a 90% or better on the shooting qualification to pass the course and receive certification.
Possession of an Active Certified Pistol Instructor rating is a prerequisite for course attendance and certification as an NRA CCW instructor. Prior to the CCW instructor training candidates must first complete and pass the student level NRA CCW Course as per NRA Training Policy, and BIT Certification must be current.
This course is conducted by FRC's Chief Instructor and NRA Certified CCW Training Counselor, John Hanchey.
Class length:  2 Days (16 hrs.)
What to bring:  Your pistol, a quality holster, quality gunbelt,  minimum of 3 magazines, magazine pouch, concealment garment (vest, jacket, long shirt, etc.) hearing and eye protection, 300 rounds of ammunition.  A comprehensive gear list will be provided once registration is complete.
Ammunition for most handgun calibers, and ear and eye protection are available for purchase in our retail area.