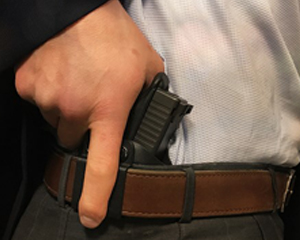 FRC's Concealed Handgun Permit Renewal Class. Louisiana Concealed Handgun Permit holders must renew every 5 years. You may renew up to 60 days past your permit expiration date. However, you are required by Louisiana law to take the entire class over again if your permit is expired in excess of 60 days. You will recieve refresher training in the Louisiana statutes governing the use of deadly force and will be required to shoot the qualification course. Certificate will be awarded upon the completion of the class.
This is a TWO NIGHT course. BOTH NIGHTS ARE REQUIRED. Tuesday and Wednesday.
Topics covered include:
Handgun nomenclature and safe handling procedures
Ammunition and fundamentals of handgun shooting
Conflict avoidance, conflict resolution, and the legal use of deadly force.
Handgun shooting positions
Child access prevention
Care and Cleaning
Range Qualification
Class length:  9.5 Hours
What to bring:  Your pistol, 50 rounds of ammunition, and ear and eye protection.  Please wear proper footwear (no open toed shoes or sandals).
Ammunition for most handgun calibers, and ear and eye protection are available for purchase in our retail area.
If you do not already have a pistol, let us know, and we will provide one to you from our rental program."